Get the Best free Yacht CV template
Are you starting to apply for yacht jobs, but have little to no success or doing it without the Best free Yacht CV Template ? You are not alone, the industry shows that 90% of CV recruiters and Captains get on board Yachts do not include key information needed to employ you as a Stewardess or Deckhand on board.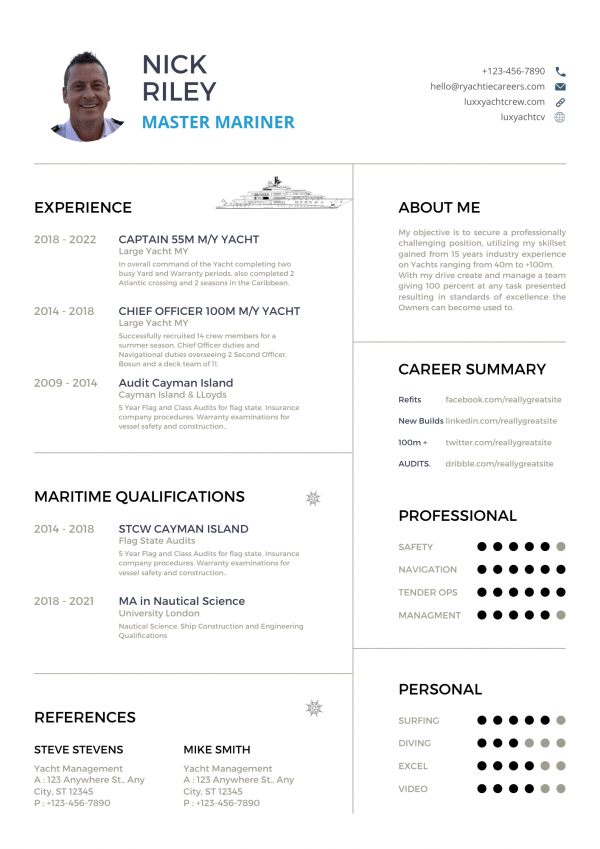 We have made the Best free Yacht CV Template for new crew, you can download for free and fill in yourself so that you do apply for a job, your CV goes to the top of the pile and actually gets read by us on board. This will increase your chances of getting the interview and subsequently the job offer.
Here are a few things you must include on your free Yacht CV templates.
1. Include ENG1 Medical certificate on your Yacht CV templates ?
In your personal Details and Certificates, list your Medical Certificate as ENG1. It is the common name for the medical certificate in Yachting. But every employer knows that your Medical certificate is the equivalent to an ENG1. We can write your complete Yacht CV, making sure the right information is specified to stand out with the Best free Yacht CV Template.
You can find a list of Doctors to issue a Medical Certificate for Seafarers in that country, the same way you would be doing in your home country, you can also find Doctors abroad contacting us.
There is a misunderstanding in regards ENG1, since the regulatory standards in Yachting comes from the MCA which is the UK body their Version is ENG1. But a Medical certificate from another issuing country is just as valid and equivalent to an ENG1
 2. Have a clear Yacht CV Photo
Remember to have a professionally taken clear CV photo, where you wear a uniform you would wear in your Stewardess or Deckhand role on board and add this to the photo sections on your free yacht cv template. The photo will be in the top left corner where it is most visible on the best free yacht CV template.
3. Add your new STCW Basic Safety Certificate and Qualifications to your Yacht CV template
Add your maritime qualifications on the first page, since you might not have much yacht experience when starting, it is important to highlight your Certifications and STCW Basic Safety Certificate.
If you do not have your STCW Basic Safety certificate, you can get it with us in a worldwide approved STCW Training Centre in Split Croatia.
The Basic Safety STCW training is an international standard for all yacht crew and the minimum safety certificate you need together with an ENG1 Medical Certificate. It includes 6 days of safety training covering all safety aspects to become qualified and to know the safety procedures for on board yacht crew. 
Croatia 699€- The cheapest option – Croatia STCW Training is the most affordable option on the list for getting your STCW Basic Safety Training (Manila 2010 Standards) you can also select free included accommodation for the entire training week for a total price of 849€. 
4. How many Sections on the best Yacht CV template ?
We have selected and included the most important 11 sections that a Yacht CV template should have, that every yacht recruiter and employer is looking for when selecting new Deckhands and Stewardesses. So fill in the sections especially for:
Experience
Education
References
Skills
Interestes
Personal Summary and Objective
These are some of the most important sections that we have included when you are filling in your information on the Best free Yacht CV Template.
Download the Best free Yacht CV template
There are a few ways you can get access to our Free Yacht CV template. Remember that if you do need help filling it in we are happy to write the CV for you. This is included in our Superyacht Training packages for new crew, where we make a custom professional Yacht CV design for you and then write your CV from scratch.
Book Stewardess Training

and we write your Yacht CV and send out to employers with all your new Qualifications
Book Deckhand Training and we write your Yacht CV and send out to employers with all your new Qualifications